URBAN UPCYCLE: BEHIND THE LOOKS
Find out more about our Urban Upcycle TAFE Fashion Student Designers
We are proud to introduce the designers behind the Urban Upcycle garments
All proceeds procured from the auctioned garments will be donated to
Uniting WA
in support of those experiencing homelessness in Perth.
It's been an absolute pleasure working with South Metropolitan
TAFE Fashion
Students on this project. We are honoured to share their inspiration and motivations behind their upcycled designs.
ALEXANDRA KNIGHT

Title:
"Déjà Vu"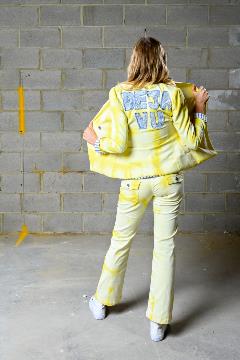 About the Garment

In an age of throw away culture Alexandra has used the phrase "Déjà vu" to remind people of the versatility of their clothing and give them the confidence to wear something twice. The piece started off as a pair of white trousers and a jacket which were dyed with turmeric to show how vibrant colours can be when they come from nature. Alexandra used bright contrasting colours to create a power suit that brings joy and confidence to the wearer.

About the Designer
Alexandra Knight is a young student designer who has a passion for finding ways to combine sustainability with classic and wearable silhouettes. Alexandra has always been interested in fashion and decided to study towards a career in it when she realised the potential the industry has to become more sustainable. She hopes to focus her future collections on upcycling materials and clothing to create modern and elegant garments. Alexandra loves combining bold colours and patterns with contrasting textures. This comes from her love of wearing statement pieces and combining patterns in her own style.

Instagram:
@alexadralknight
AMY GRASSO
Title:
"Blue Alchemy"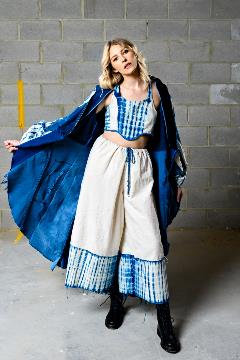 About the Garment
This design is an ode to the magic of natural Indigo, and learning the alchemy of managing a live Indigo vat ‐ watching it change colours as cloth hits the air. The garment silhouette is inspired by the Victorian era & Japanese aesthetics. It took 9 pairs of jeans, 2 dresses and 1 bed sheet to make. Most fabrics have had the colour removed and been re‐dyed.
About the Designer
Amy Grasso is a self‐taught textile artist. Attracted to the beauty inherent in nature, she wishes to imbue her creations with the quality that she has experienced in pristine natural environments such as Vancouver Canada, where she lived previously. Amy decided in 2020 to continue the training she received in her youth and formally study fashion design. Inspired by many things; such as traditional craftsmanship, traveling & clothing history to name a few, Amy hopes to orient people towards a more sustainable and purer way of relating to clothing in their everyday lives.
Instagram:
@sophia_textiles
BRENDON TAPSCOTT

Title:
"Contra"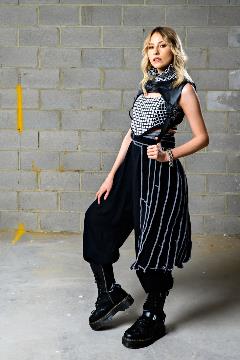 About the Garment

The piece before you explores constructs of gender in reference to gender specific clothing. The garment has been constructed by using key stereotypical feminine and masculine elements and silhouettes, to create an androgynous piece that will suit any form of gender.
About the Designer

Brendon Tapscott also known as Contra, is a drag artist diving into the realm of fashion. Growing up in country towns their whole life Brendon was surrounded by conservative stereotypes of what a man and a woman should be, act and look like. It wasn't until they moved to the city and discovered their passion for drag artistry; did they begin to unpack what those stereotypes meant and how they not only influenced but restricted their own personal expression. They have only been studying fashion for less than a year but already have big ambitions for where they want to take their fashion career. Merging their love for Drag and textiles, Contra aims to encourage others to deconstruct their own gender stereotypes and explore their personal expression outside of social norms.

Instagram:
@oddcontra
CHARLOTTE TEW HORNG YANN

Title:
"Tragedy"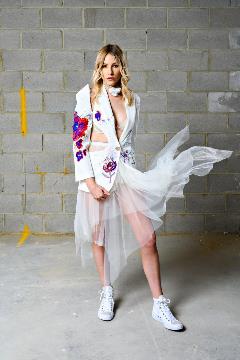 About the Garment

Tragedy is inspired by fear and social anxiety in everyday situations. This is represented in the top garment by the holes surrounded in red hand embroidery, showing the invisible scars left by anxiety in people's lives. The garment below represents peace and inner serenity shining through the hurt and despair from the top layer.
About the Designer

Charlotte is an Advanced Diploma fashion student from SM TAFE Bentley, Perth, WA. She creates intricate womenswear garments that represent strength and resilience.
If there were three words to describe her design style it would be: attention to detail. Charlotte enjoys doing self‐taught hand‐embroidery, beading and smocking; and explores different design styles and concepts. She is an excellent illustrator and enjoys visual storytelling through differing mediums.
Instagram:
@charlottethyann


DANIEL TINNING
Title:
"Regenerated Denim"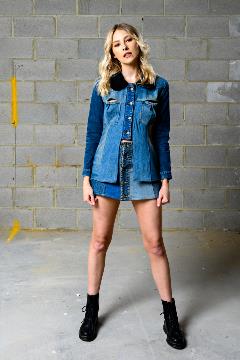 About the Garment

Denim is one of the most versatile and widely used fabrics in fashion, it has become a mainstay for up‐cycled garments due to its versatility and status as a wardrobe staple. With his design, Daniel has reinterpreted these classic qualities of denim. Using 100% donated materials, the designer has utilised cleverly placed seams and creative pattern making to 'cut and paste' this piece together ‐ turning pairs of jeans into a jacket and skirt with the intention of retaining their original aesthetics. With sustainability at the forefront of the design process, the initial concept was visualised using 3D pattern making software to reduce paper and fabric waste, and streamline the overall design process.
About the Designer

Daniel Tinning is a second year student studying Fashion at South Metropolitan TAFE Bentley. Daniel's passion lies in digital and 3D design; and how these emerging technologies intersect with fashion at large. He finds inspiration through a wide variety of media and pop culture ‐ music in particular is an integral part of the creative process for Daniel.
Instagram:
@daniel_tinning
HONG TANTitle:
"Rachel's"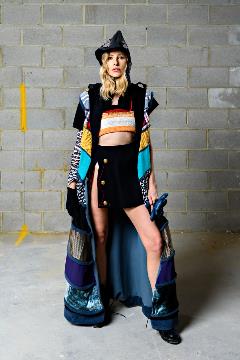 About the Garment

Inspired by the costumes from the imaginative films of the Blade Runner franchise, he takes inspiration from the vibrant spike of colours and the sharp geometric lines that frame the bodies of the characters. The piece is reminiscent of the big and bold style of coats worn in the films but with a twist of the designer's vision. Upcycling second‐hand garments, he turns the everyday normal clothing into a haven of texture, shape and colour.

About the Designer

Hong Tan is a Malaysian student studying the Diploma in Fashion Design and Merchandising at SM TAFE. Growing up in a vibrant country, he is often inspired by his surroundings. He believes the freedom that was given to him by his parents to "dream big" has allowed him to flourish as an aspiring fashion designer. He describes himself as a budding artist, on the journey of discovering one's identity, aesthetic and own voice in the creative world.
Instagram:
@benson.tann
JASON PARTRIDGE
Title:
"Delicate Compassion"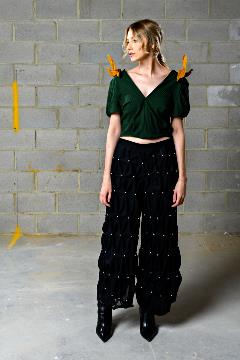 About the Garment

Missing my adoptive family in Japan, I decided to use origami as a tribute to them. I wanted to design an outfit that made people curious about fabric and its many forms of manipulation. I was able to use environmentally friendly fabric glue to hold the garment's peacocks into shape. For the pants, I wanted to create a woven texture to it as I was able to add different types of fabrics from sheer to cotton all together through patchwork, and then honeycomb smock them into shape.
From this design, I wanted to try and achieve a high‐end look from upcycled materials in hopes to inspire others to recycle and design, rather than buy. I also wanted to thank many of my friends and family of Japanese descent, who were able to answer my questions on the traditional Origami medium and its incorporation into my work. I appreciate their time.
About the Designer

Jason Partridge is a second‐year student at Bentley South Metropolitan TAFE. While focused on his studies, Jason also works part‐time on his small local brand creating embroidered garments available to the public. With his more intricate designs, he gains inspiration from music. "I like to try and feel what the artist is feeling when they perform their song, and create a garment out of that pure emotion to share with the audience".
Instagram:
@sarskild
MARY-ELLEN HANRATTY

Title:
"Contradistinction"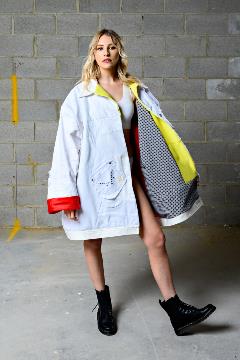 About the Garment

This design is all about contrast: the structured, almost architectural outer shell in neutral coloured recycled denim is lined with the bright woven contrasting coloured fabrics. As the garment is entirely made from upcycled clothing, it has been cleverly patch worked using micro pleats to create an interesting visual texture to the garment. The garment is essentially an extreme oversized jacket, that can be worn in a vast number of ways; in isolation (as a dress), or over trousers or skirt (as outerwear).
The name of the garment, Contradistinction, literally means "distinction made by contrasting the different qualities of two things", commenting on the contrast between upcycled, slow fashion verses wasteful fast fashion. However, its overall concept is open ended, allowing you to make of it what you will.
About the Designer

Mary‐Ellen Choong is a Diploma of Fashion Design and Merchandising student from South Metropolitan TAFE, Bentley. Mary‐Ellen has a life‐long passion for artistic creation, design and fashion and has returned to the arts after taking a 7‐year hiatus to study Nutrition and Dietetics at Curtin University. Her design taste is classic, comfortable and paired down with a touch of artistic flair and something unique. "I try to design garments that contain elements of things I wear and love, but that come together to create something totally new and interesting and that can't be bought anywhere else. My designs aim to be flattering on all figure types, allowing all those wearing them to feel confident and cool."
Instagram:
@mez_c
TERRYLL OSBORNE
Title:
"Repair, Reuse, Recycle"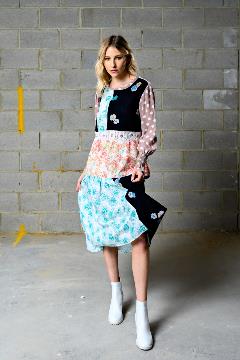 About the Garment

Forecasting websites have been awash with embroidery and patchwork. Cutting fabric into patchwork squares has never appealed to me but using several recycled garments to form a look has infinite possibilities. I have used a variety of garments to create new pattern pieces in differing prints that complement each other and smocked the full sleeve cuff. The back yoke is machine appliqued lace to highlight the textured curves of the design.
About the Designer

As global reach has intensified so has our demand for fast fashion. As a fashion student it is easy to be sucked into the fast fashion formula, but it is our duty to educate on the significant impacts on the environment and social systems. As a child with limited family income, we often visited op shops to find a hidden gem. Mum taught me to sew and craft from 9 years old by adapting these gems – adding and subtracting to make it work.
There is hope in seeing the value of slow fashion and the current appreciation of handcrafted.
Instagram:
@sadiexcross
Learn more of the Urban Upcycle initiative
here
.
Latest news from Raine Square
Stay up to date with what's on