Urban Exhibition
HANDBRAKE is our Urban Exhibition feature artist for September.
Each Month Raine Square will be using our prominent William Street location to showcase upcoming artists. This month we're featuring HANDBRAKE (the handle of Perth-born artist Hans Bruechle) in our Urban Exhibition.
HANDBRAKE mixes elements of graffiti, tattoo design, cartoon, pinup, doodling, and watercolour into his works to create his unique style bursting with colour and detail.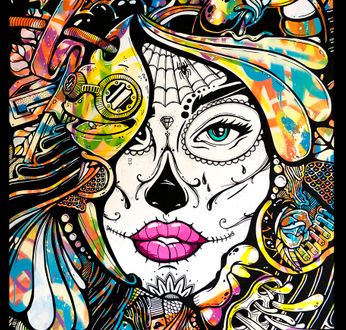 He has collaborated with global brands like McDonalds, Red Bull, Mercedes, Harley Davidson, Skullcandy, and even produced the latest album artwork for international band Stone Temple Pilots. His clients include actor Dan Aykroyd, pro surfer Josh Kerr, and a whole host of hotels and private collectors.
You can look at a HANDBRAKE piece countless times and still find something new in each viewing. His level of detail and the amount of work he pours into each piece is impressive and offers something for just about everyone.
Visit the Windows of Wentworth on William Street to view his incredible art.
Keen to be involved as a featured artist? Get in touch via our Facebook page.
Latest news from Raine Square
Stay up to date with what's on