URBAN EXHIBITION 2020
Local artists display their work at Raine Square
Following on from the successful Aspiring 2020 program we are continuing to support local up and coming artist by displaying their work in the Windows of Wentworth.
The emerging artists cover a spectrum of artistic styles from Alisha Falconer's colourful abstract floral canvasses to Andrew Farmer's striking geometric paintings and Caroline Muscat's evocative drawn portraits.
Explore more about our amazing artists below:
Alisha Falconer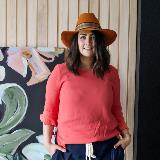 Abstract Expressionist, Alisha Falconer is a West Australian artist. Finding inspiration in surrounding landscapes, flora, fashion and interiors, her pieces comprise of layers of paint, markings and textures from mixed mediums such as acrylic, ink and pastel. Alisha's artworks are infused with energy and emotion, focusing on the use of bold lines, shapes and contrasting colours that convey a sense of calm, balanced curiosity.


Andrew Farmer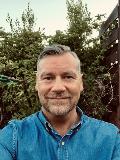 Andrew Farmer is a self-taught geometric abstractionist who's love for block colour and geometric shapes defines his work. The former British Royal Air Force aircraft engineer brings his methodical and structured training to his art. Applying precision engineering principles to each piece with fastidious hard edging techniques. Originally from the UK he has made Australia his home for the past 21 years. Andrew's goal is to become an established artist and to evolve his love for shapes, lines and colour into other mediums.

Beth Scholey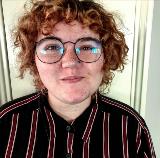 Beth Scholey is a UK born, Perth based artist who has an Advanced Diploma in set and prop construction from WAAPA and an Advanced Diploma of Visual Art from NM Tafe. Her practice revolves around the application of found, antique and handmade objects. Using items she has collected from across the globe over a 20 year period, Beth contrasts the historical themes and look of the objects with handmade pieces. She examines what links the past to the future, and how we can learn from history to avoid disaster in the present.
Caroline Muscat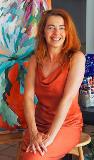 When France-born artist Caroline Muscat moved to Perth 15 years ago, she was instantly struck by the beauty of the Australian landscape.
Her acrylic paintings can be seen as abstract art inspired by native trees and her use of vibrant colours engages the emotions of the beholder.
Caroline has been a regular in art fairs and festivals throughout WA and showcased her first body of work in a solo exhibition entitled "My brush wanders" in 2018.
Her "self-portrait in St-Tropez" was selected for the prestigious Black Swan (now Lester Prize ) in 2017 and exhibited in the 'Salon des Refuses'.

Carolyn Trowbridge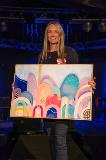 I am a self taught artist working mainly in acrylics and also utilising mixed media such as inks, pastels and collage. My work predominantly features abstract landscapes that are bold, bright and drenched in colour. I am to bring the viewer feelings of joy, energy and happiness through my paintings. My work often features a signature gold line which represents illumination of thought, dreams, aspirations and human connection to a higher purpose.
Larissa Nguyen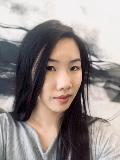 Hi there!

My name is Larissa Nguyen and 3 months ago, I said goodbye to a corporate career and started my journey to become an artist.
I enjoy painting intuitively with minimal planning and going where the painting takes me.
My creations range from abstract forms to impressionist expressions with colour, shapes and textures taking inspiration from nature.
In my works I seek to find energy and balance; to capture a moment of peace, of hope, of freedom, of strength - so that you may hold onto it forever.

Lauren Elise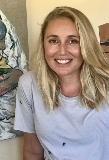 Lauren Elise Kennedy (Atkinson) was born in Geraldton, Western Australia in 1988. After her schooling she moved to Perth to study Visual Arts and Fashion, graduating with a bachelor in contemporary arts in 2012.
She worked in the textiles industry from 2013 until having her daughter in 2016. Since becoming a mother, Lauren has rekindled with her artistic roots in painting and drawing; completing numerous commissions, primarily portraits and landscapes.
Her work exudes movement through her energetic brushwork and continuous line drawings in which are influenced by storytelling and classical music.
Latest news from Raine Square
Stay up to date with what's on